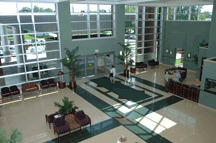 It is the policy of Daviess Community Hospital, Washington, Indiana, to admit and treat all persons without regard to race, color, sex, handicap, national origin, or religious creed. Admission requirements and assignments of hospital facilities are the same for all persons.

There are no distinctions in eligibility for receiving any patient care services. Hospital facilities are available to all patients and visitors. Individuals and organizations having occasion to refer patients for admission or recommend Daviess Community Hospital are advised to do so within the hospital's policy to provide quality healthcare to all persons.
Your Admission
The Admission Offices are located in the main lobby of the hospital. Patients or their immediate family members are requested to provide insurance and information concerning hospitalization at the Admission Office.

If you have a pre-scheduled appointment for admission or for a test, it is important that you arrive on time, because your physician may have scheduled other tests for you. You will be asked to sign a consent form for admission to the hospital and for medical treatment. Federal regulations require hospital personnel to inquire as to the presence of an Advance Directive. This includes a living will or durable power of attorney with a healthier clause. Information on Advance Directives is provided to every patient upon admission.

An identification bracelet for your wrist will also be prepared. At this time, you will be taken to the nursing unit or department to which you are assigned.

Nurses and/or technicians will interview you by asking questions about your health. Sometimes, these same questions are asked more than one time to insure accurate information. These questions may concern your diet, allergies, personal habits, and other factors that will apply specifically to the care you receive.

Please feel free to ask the staff any questions you have about our hospital, the care you receive, or any procedures. We will try to provide you with room accommodations of your choice; however, accommodations you prefer might not be immediately available because of physician requests, special treatment procedures, or the medical needs of other patients.
If you have questions about your admission to Daviess Community Hospital, please call 812-254-8863.