We are working with Follow My Health to provide a NEW texting (mobile experience) for our patients after a clinic visit or a discharge from the hospital.
You can still access your health information through the patient portal.
For all clinic patients, you'll now receive texts for:
Appointment reminders
Post Care summaries
On Demand Messages (when providers have important notifications/updates to share)
Visit surveys
Patients discharged from a hospital stay or visit in the ER will receive texts for:
Welcome message (not for ER)
24 hr follow up
Post Care summaries
Visit surveys
Common forms and information
Healthy Indiana Plan (HIP)
Please call 812-254-2760 ext. 1552 if you wish to get a release of your medical records.
Cafeteria
All meals from the cafeteria will be in disposable ware (to-go containers, plastic ware, etc)
There is limited seating available in the cafeteria.
Salad/Sandwich Bar will no longer be in operation and will be replaced with "Grab and Go" options for Pre-made Salad and Sandwiches.
Cafeteria Hours: Monday through Friday Only. Closed on weekends.
Breakfast 7 to 9 am
Lunch 11 am to 1:15 pm
Dinner 4:30 pm to 6 pm (beginning October 23 dinner service will no longer be availabl)
The Daviess Community Hospital Campus is smoke-free - no smoking is allowed.
Parking
Visitors are welcome to use the main parking lot in the front of the hospital.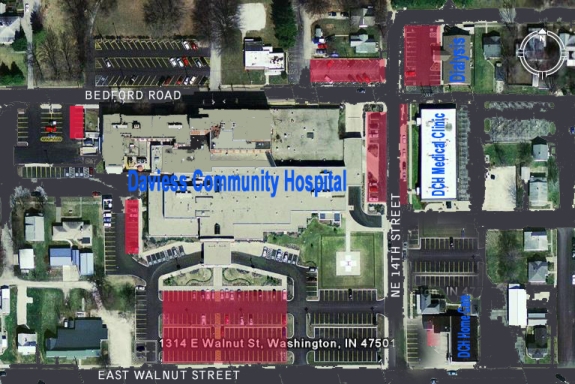 Lounges
There are several lounges throughout the hospital on the various units. Family and friends of those having surgery may want to stay in the surgery lounge located next to the same day surgery unit.
Chapel
The chapel is always open for prayer and reflection. The chapel is located on the 1st floor, just west of the hospital's emergency room entrance.
Patient Billing
A customer service representative is available to answer specific financial questions or to receive a payment Monday through Friday near the main lobby of the hospital.
Telephones/Cellular Phones
In most cases, cell phones and pagers may be used in the hospital. Please check with the nurse prior to using your mobile device. DCH offers FREE WI-FI (dch-public).
Short-Term Lodging
There are several nearby hotels in Washington. Click here to check availability.
NON-EMERGENCY TRANSFER Services
A transport is considered non-emergency if a patient is moving to or from a health facility, or between health facilities, for medically necessary reasons that are not a direct result of a sudden or unexpected deterioration in the patient's condition, and which do not require immediate management of life, limb or function-threatening conditions. This includes patients being discharged from the hospital but unable to use conventional means of transportation, or those requiring specialized diagnostic and treatment facilities available only at specific hospitals.
DCH EMS can provide this service for: doctor's appointments, dialysis, therapy, discharges, etc. between the hours of 7 am to 6 pm, Monday - Friday.
You must schedule by calling 812-254-9324 or fax to 812-254-2953 (scheduling office is open Monday - Friday from 8 am to 5:30 pm).
Services will be billed to the patient's insurance.