PLEASE NOTE: Visitors must be 18 years or older.
Common forms and information
Cafeteria
All meals from the cafeteria will be in disposable ware (to-go containers, plastic ware, etc)
There is limited seating available in the cafeteria.
Salad/Sandwich Bar will no longer be in operation and will be replaced with "Grab and Go" options for Pre-made Salad and Sandwiches.
Cafeteria Hours: Monday through Friday Only. Closed on weekends.
Breakfast 7 to 9 am
Lunch 11 am to 1:15 pm
Supper 4:30 pm to 6 pm
The Daviess Community Hospital Campus is smoke-free - no smoking is allowed.
Parking
Visitors are welcome to use the main parking lot in the front of the hospital.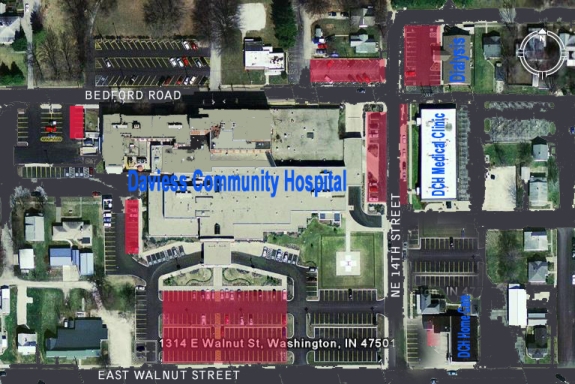 Lounges
There are several lounges throughout the hospital on the various units. Family and friends of those having surgery may want to stay in the surgery lounge located next to the same day surgery unit.
Chapel
The chapel is always open for prayer and reflection. The chapel is located on the 1st floor, just west of the hospital's emergency room entrance.
Patient Billing
A customer service representative is available to answer specific financial questions or to receive a payment Monday through Friday near the main lobby of the hospital.
Telephones/Cellular Phones
In most cases, cell phones and pagers may be used in the hospital. Please check with the nurse prior to using your mobile device.
Short-Term Lodging
There are several nearby hotels in Washington. Click here to check availability.