Alicia Fields Receives Endocrine Specialty Certificate from Duke University
Posted On:
Written By:

Jen Houchins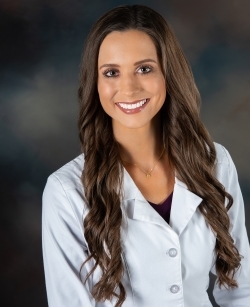 Alicia Fields, DNP, FNP-C, RYT of Washington received a specialty certificate in endocrinology from Duke University in Durham, North Carolina. Fields is the first nurse practitioner in Indiana to successfully complete this program.
In 2016, Duke University launched the first endocrinology specialty in the United States for nurse practitioners. Duke University School of Nursing recently received multiple high rankings in the 2020 editions of U.S. News & World Report Best Graduate Schools rankings including #2 best graduate nursing school.
The endocrinology specialty offers nurse practitioners the opportunity to have advanced training in the care of individuals with diabetes and other endocrine conditions. The distance-based coursework includes evidence-based guidelines from the American Diabetes Association, Endocrine Society and American Association of Clinical Endocrinologists, incorporating the latest knowledge in the field. On-campus intensives provide nurse practitioners with the opportunity to engage with faculty and practicing clinicians and inquire about novel research and innovative practice. A synthesis course allows nurse practitioners to work directly with clinicians practicing in endocrinology across a variety of clinical settings.
Fields is a board-certified family nurse practitioner employed by Daviess Community Hospital and currently works at the Lohano Center for Advanced Medicine as well as the DCH Quick Care Clinic. She started at Daviess Community Hospital as a high school intern and has been employed by Daviess Community Hospital her entire career in nursing. She obtained her associate and bachelor's degree in nursing from Vincennes University graduating summa cum laude. She then obtained a master's degree in nursing from Saint Joseph's College of Maine and a doctorate in nursing practice from Frontier Nursing University. She is a member of numerous professional organizations at both the national and local level. She serves as a board member for the Endocrine Nurses Society and the Daviess Community Hospital Foundation. She is a lifelong resident of Daviess County.
Fields, in collaboration with board-certified endocrinologist Dr. Vasdev Lohano, treats a variety of endocrine conditions including diabetes, thyroid disorders, osteoporosis, lipid disorders, male and female hormone disorders, pituitary disorders, and adrenal disorders. To learn more, call 812-254-2250.